Parents' Night Out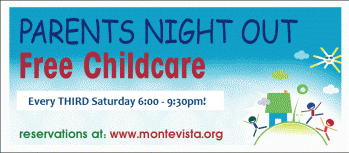 Need a night out?
Every third Saturday, Monte Vista offers the parents in the community free childcare from 6:00 PM to 9:30 PM. It is open to all and there is never a charge.
PNO offers:
• adult supervision
• big screen G-rated movie
• music &
arts and crafts
• healthy snacks
Reservation required. Call Linda Davis at 505-293-3242 or email her at lfeydav~lksjdf~aol.com.
You can also make reservations using our online web form.