Welcome to Monte Vista!
>
Faith in Action
>
Celebrating God Together: Worship
Celebrating God
Worship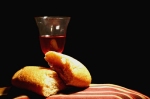 is the very heart of who we are. As people of faith we gather in celebration and praise of God. Everyone is welcome to join us in these experiences. We have three weekly opportunities to gather at the Table for Lord's Supper.
The Lord's Supper is the center focal point when we gather for worship. We come together in response to the invitation of Christ to join him in sharing a meal of bread and wine. A time to remember, reflect; a time to be refreshed, renewed.
Worship Service - Sunday
The community assembly for worship begins at 10:30 AM in our very special Sanctuary. As you enter you will be able to sense the presence of the Holy Spirit. This gathering includes singing, prayer, and Table fellowship embellished with wonderful music and some thoughts on how the Scriptures intersect with our everyday lives.